Today is Thursday, thank god, and you know what that means...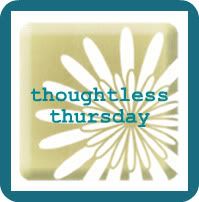 ...Thats right its time for Katie's Thoughtless Thursday!
Due to Izzie's inability to let me do much else besides hold her or listen to her scream (day and night) I am going to just go with a cute picture of my beauties. Things like this are keeping me sane through this cute stage Izzie is in.
...Can't believe I actually caught a picture of them Both smiling!